New National Flameproof Mattress Regulation Requires Acutely Toxic and Cancer Causing Chemicals in all new mattresses.
July 1 2007 was compliance deadline for all mattresses nationwide.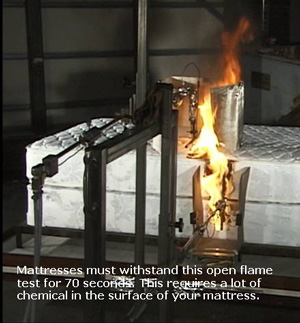 Jan-06 Government report proves we absorb Boric Acid (Roach Killer) and Antimony (Heavy Metal almost identical to Arsenic), and more, every night from flameproof beds. Many doctors say this is not safe. Many people do not want to absorb poisons nightly to avoid a one in 1.111 million mattress fire risk. Many people have already gotten sick. Dr. Plumlee, MD, says: "How many are intolerant who don't know why they can't sleep or feel bad?"
Fortunately we have ways to offer you toxin free mattresses including: Doctors including Chiropractors can prescribe toxin free beds under the new law. We can arrange the prescription for you if needed. And, the prescription saves you the sales tax on the mattress set purchase, and it may also be deductible on your income taxes.
Buy direct from Manufacturer, our Dealers, or Chiropractor Dealers, Call 800-456-6442 or click here for a dealer near you. They can custom fit you a mattress that provides Proven Best Back Support, 90% Less Tossing and Turning, and Clinically Proven Better Sleep, with our Patented "Lever Support System." Plus you know you are getting a toxin-free bed.
Beware of Organic or other mattresses that claim they use no chemicals. There are no labeling requirements. There are no chemical free systems that will pass the severe open flame test, not even wool, they are all toxic. Your only safe choice is a prescription mattress. See Organics Burn
We're Making News, Toxic vs. Toxin-Free Prescription Mattresses
TV stations CBS, NBC, ABC, FOX, Magazines, and Newspapers across the country have done news stories on toxic beds
"Many manufacturers are predicting a backlash once consumers start to investigate what's really lying under their sheets with them." "Mattress factory workers are coming forward and admitting they are getting sick simply handling the new chemically-laden materials"
Tell a Friend, Email a link to this site
All mattress makers will claim they use no chemicals, but the CPSC documents prove otherwise. Click here to see the CPSC table of chemicals used, and here to see their table of the amount of poisons absorbed daily from flameproof mattresses.
Recently, Boric Acid (yes, the Roach Killer), Antimony Trioxide, Silicon, Melamine, Formaldehyde, Decabromodiphenyl Oxide, and Ammonium Polyphosphate are the main chemicals being used by mattress manufacturers to meet state and federal flammability standards.
The CPSC has proven these chemicals leach to the surface of our mattresses and are absorbed by our bodies. They have proven we will absorb .8 mg of Antimony, and .08 mg of Boric Acid every day. We know Antimony accumulates in our bodies, is acutely toxic, and also causes cancer.
CPSC Risk Assessment of Flameproof Mattresses, see the facts firsthand: (Requires PDF viewer)
Short version, 17 selected pages highlighted
Full version, 77 pages Bookmarked Highlighted, Searchable
There can be as much or more than 1.5 pounds of these chemicals in the surface of a queen mattress. There are huge health risks from full body contact and breathing these chemicals eight hours a day for the rest of our lives. Our science warns us many of these chemicals are regarded as a carcinogen. Others are known to be a reproductive and developmental toxin: High prenatal mortality, birth defects, reduced fertility, sterility. Liver, kidney, brain, and heart muscle damage are other effects. Plus much more! The consumer products safety commission hopes to save one out of one million people with this law. People with allergies, asthma, preexisting conditions, and other special populations, are probably at even greater risk. Learn more about the risks by clicking here.
Protect Yourself – with your doctor's prescription you can buy a mattresses free from flame retardant chemicals

.

Fortunately, the law allows "a physician, chiropractor, or osteopath licensed or otherwise permitted to practice by any State of the United States," to prescribe a special mattress free of these chemicals to a named individual.

Order online, by phone, or through our dealers, but before we can ship we must by law have a written prescription to a named individual on file. Simply have your doctor fax your prescription to 812-282-6528, or we can arrange a prescription through your doctor or another doctor.

Toxin Free Mattresses & Prices, buy direct from Manufacturer or our Dealers