The science of toxicology uses high dose short-term exposure on various animals to predict the affect of low dose long-term exposure on humans. Chemical exposure risk greatly increases with, close contact, and length of exposure. For an infant born today this exposure on a mattress will be eight or more hours per day, every day, for the next seventy years or more.
Boric Acid, a chemical made from the reaction of Sulfuric Acid and Borax, should not be confused with Boron salts that occur in nature. Boric acid is the raw stuff. It occurs in nature in only one place in the world -- A steam vent in Italy where Sulfuric Acid mixes with Borax. (Microsoft Encarta)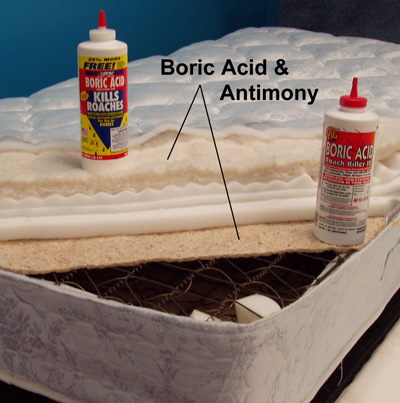 This mattress cutaway shows how Boric Acid is used in mattresses. The layer at the surface is fluffy cotton batting treated with Boric Acid and Antimony. The layer next to the springs is compressed cotton batting treated with Boric Acid and Antimony. The law label tells us the mattress contains: 47% Urethane Foam, 39% Blended Cotton, 13% Polyester Fiber. By weighing the cotton batting in the mattress and assuming 10% Boric Acid by weight, Boric Acid treated mattresses would contain the following amount of Boric Acid in each mattress:
Amount of Boric Acid in Mattresses by Size

Size
Pounds
Ounces
Grams
Miligrams
King
1.8
29
824
824,000
Queen
1.5
23
659
659,000
Full
1.2
20
553
553,000
Twin
0.9
14
386
386,000
Crib
0.5
7
202
201,600
Fatal Human Dose: 2g Child, 5g Adult
Chronic exposure increases risks
Here is how Boric Acid is applied to cotton batting: "Generally applied in the mixing machine prior to garneting, boric acid is introduced to the cotton fibers along with a small amount of oil and chemical surfactant. To further achieve even distribution and adherence to the fibers, the boric acid is ground to a very fine consistency prior to application. … Applied as a white powder, boric acid is inorganic and is odorless." (NCBI) Thus you can see Boric Acid is not chemically bound and exists as loose dust in the surface of our mattresses. As the mattress gets older and oils dry out even more Boric Acid will kick up into our faces with every body movement for us to breathe and absorb.
Boric Acid, also known as the best Roach Killer, is a known reproductive and developmental toxin, a known respiratory irritant, Demonstrated injury to the gonads and to the developing fetus. high prenatal mortality, Neonatal children are unusually susceptible. There are already 6,463 U.S. cases of Boric Acid poisoning each year. Our calculations show young children could be poisoned by sucking on boric acid mattresses. One human exposure study showed reduced sperm counts and reduced sexual activity in humans. Fatal human single dose reported at: 2g Child, 5g Adult. Prolonged absorption causes weight loss, vomiting, diarrhea, skin rash, convulsions and anemia. Liver and particularly the kidneys may be susceptible. Causes irritation to the mucous membranes of the respiratory tract. May be absorbed from the mucous membranes, and depending on the amount of exposure could result in the development of nausea, vomiting, diarrhea, drowsiness, rash, headache, fall in body temperature, low blood pressure, renal injury, cyanosis, coma, and death.
These mattresses also contain Antimony. The CPSC extraction studies show cotton batting flame proofing systems contain 2.4% Antimony. Based on cotton batting weights measured above mattresses would contain the following amounts of Antimony:

Amount of Antimony in Mattresses by Size

Size
Pounds
Ounces
Grams
Miligrams
King
0.6
10
272
271,920
Queen
0.5
8
217
217,470
Full
0.4
7
182
182,490
Twin
0.3
5
127
127,380
Crib
0.2
2
67
66,528
CPSC says we will absorb .8 mg nightly for the rest of our lives
EPA says only .03 mg safe--Mattresses Toxic by 27X safe level
And, we will likely absorb much more than they predict
Most government agencies say there is no safe level of Antimony absorption.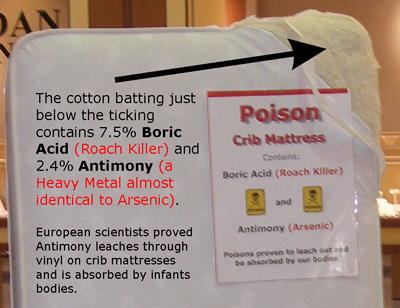 By assuming, without data, that we will absorb only 2/1,000's of Antimony and 9/100,000's of Boric Acid, that has leached through our mattress and is in contact with our bodies, the CPSC says we will absorb a daily dose of .802 mg Antimony and .083 mg Boric Acid, every day for the rest of our lives. Of course, the real number could be much higher. Many people don't want to absorb any poison from their mattress and would rather take the one in one million mattress fire risk.
Antimony: Quote from College Chemistry Textbook: "Antimony resembles Arsenic very closely; the difference in its behavior being almost entirely accounted for by the fact that antimony is slightly more metallic." This helps explain why it is so poisonous. Quotes from ATSDR a division of the CDC on Antimony: "An increase in the number of spontaneous abortions, disturbances in menstruation, failure to conceive, May cause heart to beat irregularly or stop. … Chronic Exposure: Prolonged or repeated exposure may damage the liver and the heart muscle." "In long-term studies, animals that breathed very low levels of antimony had eye irritation, hair loss, lung damage, and heart problems. Problems with fertility were also noted." "Two studies reported lung tumors in rats exposed to relatively low levels of antimony trioxide." Antimony tends to accumulate in the liver and gastrointestinal tract." The CDC cannot determine a safe level of Antimony exposure because: "At the lowest exposure levels tested, the adversity of the effects was considered to be serious." On cancer risks of Antimony even the CPSC admits: "The cancer effects are cumulative. Every exposure contributes to the overall lifetime risk of developing cancer."
CPSC predicts we will absorb 27 times more Poison every night from mattresses (.8 mg Antimony) than what the U.S. Environmental Protection Agency (EPA) says is safe (.03 mg), and it is likely we will absorb much more than they predict. In predicting we will absorb .8 mg nightly the CPSC assumed, without data, that we will absorb only 2/1,000's of the Antimony that has leached to the surface and contacts our bodies. We know we absorb medicine through our skin from small patches. Studies from the Center for Disease Control (CDC) show six to eight skin applications of Antimony Trioxide, the exact form used in mattresses, applied in a mixture to resemble sweat killed half the rabbits studied.