Crib Mattresses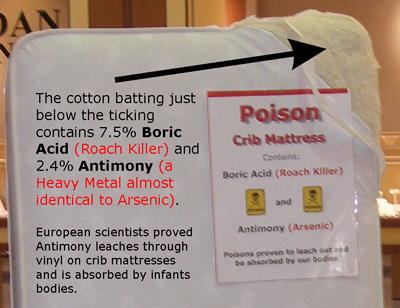 Even new Crib Mattresses contain over half a pound of Poison of Boric Acid (Roach Killer) and Antimony (Arsenic) to meet the fireproof mattress regulation.

For amounts see: Pounds Poison in Beds

Young children are extremely vulnerable to toxic exposures.

From the largest retailer of crib mattresses website: "The Crib Mattress's top inside layer is Fireblocker, providing gentle sleeping and safety." We disagree on safety. We know this system contains 10% Boric Acid and 2.4% Antimony. European researchers measured and proved Antimony leaches through vinyl on crib mattresses, and linked this to Sudden Infant Death Syndrome (SIDS). High levels of Antimony were found in the livers of dissected dead human infants. Europe has been moving away from using flame retardants and requires them be proven safe before being used.


Toxin Free Crib Mattresses

Strobel Crib mattresses are Conforming Hypo-Allergenic Pure Urethane or Latex Foam Cores, not inexpensive innersprings with chemically saturated cotton batting. Waterproof covers wipe clean easily and feature seamless tops. There is no stitching on the top surface edges where moisture and bacteria can enter the mattress. Bottom zippered cover allows you to be sure even the inside of the mattress is clean. 27.5x52x5.5" Young children are the most vulnerable to toxic exposures. Our prescription crib mattresses contain no flame retardant chemicals or other toxins. Available with our patented 'Lever Support System' to give best support to growing young bodies.
Call 800-457-6442, or Click Here for a dealer near you
| | | |
| --- | --- | --- |
| | Retail | |
| Standard Crib Mattress | | |
| Hypo-Allergenic Pure Urethane Foam Core | $299 | |
| | | |
| Deluxe Crib Mattress | | |
| Two Piece Dual Firmness Construction | $349 | |
| Deluxe, with Patented 'Lever Support System' | $449 | |
| | | |
| Polylux Crib Mattress | | |
| Polylux Memory Foam | $399 | |
| Polylux, With Patented 'Lever Support System' | $499 | |
| | | |
| Polyfilax Crib Mattress | | |
| Polyfilax Premium Memory Foam | $559 | |
| With Patented 'Lever Support System' | $659 | |
| | | |
| Latex Crib Mattress | | |
| Natural Latex | $559 | |
| With Patented 'Lever Support System' | $659 | |
| | | |
Call 800-457-6442, or 866-Strobel